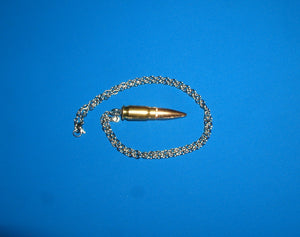 You are looking at one beautiful necklace made with a 30 WTH bullet. The chain and clasp as made from high grade, hypo-allergenic Stainless Steel.
These necklaces are available in three different chain lenghts: 18, 20 and 22 inch chain. Just pick your option.
Yes, this is a JOKE bullet, although it is made with real components: a 30 Luger casing and a 308 projectile, this is not a real caliber. As you may have guessed, the "WTH" stands for "What The Heck". (I didn't dare putting an "F")
What you will receive will draw attention and start conversations. Let's have fun and see what some "experts" will tell you about this non-existing caliber, how often they fired it  : - )
This is a new idea of "weird" bullets as a serie. For the moment, I also have the 50 WTH that exists. All these impossible bullets will be listed with "WTH" tied to their caliber. More to come…
The price indicated is for ONE necklace with a 30 WTH bullet. You can order as many bullets as you want when placing your order.
These are dummy / inert bullets: they cannot be fired and do not require any licence or permit to buy them. We do not sell any live ammunition but we can make some "Blank" ammunitions for the film industry.
These dummy / inert bullets were made using real casings and bullets.
They are professionally made by hand, one by one to offer you the best quality and look possible.
For the moment, here are all the calibers that we have available for you as dummy bullets. These are: (more calibers coming soon): 12 Ga x 2¾, 12 Ga x 2¾ Slugs, 12 Ga x 3'', 12ga x 3½, 20 ga, 10mm Auto, 17 HMR, 22 Short, 22 LR, 22 Magnum, 22-250 REM, 223 REM, 243 WIN, 25mm x 137mm NATO, 25 Auto, 250 Savage, 270 WIN, 30 M1 Carbine, 30 Luger, 30-40 Krag, 30-06 SPRG, 30-30 WIN, 300 BLK, 300 WIN Magnum, 300 REM Ultra Magnum, 303 British, 308 WIN, 32 ACP, 32 WIN Special, 338 Lapua Magnum, 357 Magnum, 357 Maximum, 380 ACP, 38 S&W, 38 Special, 38 Special + P, 38-55 WIN, 4.6 x 30mm, 40 S&W, 44 Special, 44 Magnum, 44-40 WIN, 45 ACP, 45 Colt, 454 Casull, 455 Webley, 45-70 GOV'T, 5.45 x 39, 5.7 x 28, 500 S&W Magnum, 50 AE, .50 BMG, 5.56 NATO, 6.35mm, 6.5 x 55 Swedish, 7mm Magnum, 7mm STW, 7mm-08 REM, 7.62 x 39 (AK-47), 7.62 NATO (7.62 x 51), 7.62 x 54R, 7.62 Tokarev, 7.65mm, 7.7 x 56R, 8mm Mauser, 9mm Luger, 9mm Makarov, 9mm x 21 IMI, 9mm Short. 
WTH serie: 30 WTH, 50 WTH
Many are offered with variants. If you do not see what you are looking for, please ask. 
Payment: Even if you do not have a PayPal account, you can still click on the PayPal logo and use your Credit or Debit card to complete your transaction.
We accept custom orders. Just like our regular orders, most custom orders are shipped within 24 hours (Monday to Friday, excluding Holidays).
Returns: Although it never happened yet, should any item be defective and/or not as described, you can either get the item(s) replaced or fully credited (except for shipping). If we have to send you a replacement item, we will pay for shipping. In order to claim for a refund or a replacement item, you must contact us within five (5) days upon reception of your items and explain to us what is wrong. This must include a picture of the said problem. At our discretion, we may either refund or replace the faulty item(s). We will act accordingly to what we think will be best for YOU.
Movies and Police: We have a very special edition of bullets designed especially for the movie industry and for high risks trainings. They are available in all the calibers we produce. These specially designed bullets look 100% live yet, they are 100% safe and inert. These are perfect for close-up pictures and/or to fool any trainee for a miss-fire. For more info, please write to us using an official email address at: bullits.ca@gmail.com  
Shipping: we try our best to ship every order within 24 hours from reception, Monday to Friday (Holidays excluded). If you live outside North America, we recommend that you use Air Mail service as it is much faster than regular mail. Surface mail may take from 8 to 12 weeks for delivery while Air Mail may take from 1 to 2 weeks. If you want or need insurance on your parcel, we recommend that you select a method of shipping that offers a tracking number. There is no tracking number available on "Surface Mail" nor on "Air Mail".
So far, we are proud to say that we have shipped our beautiful dummy / inert bullets to 25 different countries around the world. Here is the list (in alphabetical order): Armenia, Australia, Austria, Belgium, Brazil, Canada, Denmark, Finland, France, Germany, Hong Kong, Ireland, Italy, Japan, Mexico, Norway, Slovakia, South Korea, Spain, Switzerland, Sweden, Thailand, The Netherlands, United Kingdom, United States. Did you see your country? If not, would you like to be the first to add to this list? If you do so, we will proudly add the name of your country to this wonderful list of satisfied customers.