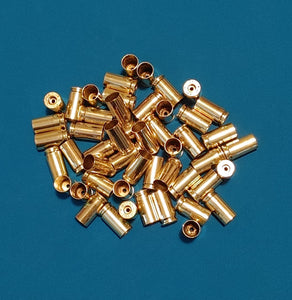 You are looking at 50 empty casings of 9mm Luger (9 x 19). These have been cleaned, resized and the spent primers have been removed. Each primer pocket has been hand cleaned, one by one. Although they spent 24 hours in the tumbler to be cleaned, as they are "once fired", some may still have some minor dings or scratches, nothing major. Some may also have a bit of blemishes or spots. Again, nothing major. The headstamps (brand names) are mixed. If you need them not resized and with the spent primers still in place, please see our other listing.
These can be used for lots of reasons like: jewelry, collection, reloading, etc…
Payment: Please note that even if you do not have a PayPal account, you can still click on the PayPal logo and use your Credit or Debit card to complete your transaction.
We accept custom orders. Just like our regular orders, most custom orders are shipped within 24 hours (Monday to Friday, excluding Holidays).
Movies and Theatre: Since we have a large selection of calibers available for you to chose from, we also have lots of empty casings for each one of those calibers. You can mix and match what ever you need for your production. At your choice, the casings can be left as they are or be cleaned and look like new.
Shipping: we try our best to ship every order within 24 hours from reception, Monday to Friday (Holidays excluded). If you live outside North America, we recommend that you use Air Mail service as it is much faster than regular mail. Surface mail may take from 8 to 12 weeks for delivery while Air Mail may take from 2 to 3 weeks, sometimes less than two weeks. If you want or need insurance on your parcel, we recommend that you select a method of shipping that offers a tracking number. There is no tracking number available on "Surface Mail" nor on "Air Mail".
So far, we are proud to say that we have shipped our beautiful dummy / inert bullets to 25 different countries around the world. Here is the list (in alphabetical order): Armenia, Australia, Austria, Belgium, Brazil, Canada, Denmark, Finland, France, Germany, Hong Kong, Ireland, Italy, Japan, Mexico, Norway, Slovakia, South Korea, Spain, Switzerland, Sweden, Thailand, The Netherlands, United Kingdom, United States. Did you see your country? If not, would you like to be the first to add to this list? If you do so, we will proudly add the name of your country to this wonderful list of satisfied customers.