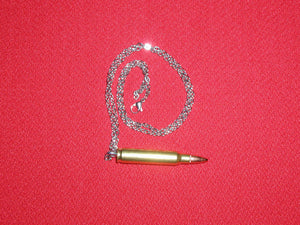 You are looking at a necklace made with a 5.56 NATO bullet. The bullet is made with a real 5.56 NATO casing and a 55 grain bullet. The bullet cannot be open.
The chain is made from high grade, high quality, hypo-allergenic Stainless Steel. The chain will not stain your neck. The chain you will receive may differ from the picture but the quality will remain the same. (Like many, we too have some issues with supplies).
When placing your order, you will have the choice of different lengths for the chain: please select the one you want. If you do not see the length you would like, please write to us and we will make one just for you, at your desired length
The eyelet is held in place using paste welding: it should never come off. Should the eyelet ever come off, NO TIME LIMIT, we will replace your bullet for free. You only have to return the item to us and we will replace it for free. We will even pay to ship it back to you.
These were made using real casings and bullets. We never use any plastic nor imitation parts: only the real things.
Our necklaces are professionally made by hand, one by one to offer you the best quality and look possible.
For the moment, we are not yet offering our necklaces in all the calibers that we offer as dummy bullets. Should you want a necklace that is not yet in production (on our website), please let us know and we will make one for you, as long as it is from one of our calibers already offered. Here is the list of all the calibers that we have available for you. These are: (more calibers coming soon): 10mm Auto, 12 Ga x 2¾, 12 Ga x 2¾ Slugs, 12 Ga x 3'', 22 Short, 22 LR, 22 Magnum, 22-250 REM, 223 REM, 243 WIN, 25 Auto, 250 Savage, 270 WIN, 30 M1 Carbine, 30-06 SPRG, 30-30 WIN, 300 BLK, 300 WIN Magnum, 300 REM Ultra Magnum, 303 British, 308 WIN, 32 ACP, 32 WIN Special, 338 Lapua Magnum, 357 Magnum, 357 Maximum, 380 ACP, 38 S&W, 38 Special, 38 Special + P, 38-55 WIN, 4.6 x 30mm, 40 S&W, 44 Special, 44 Magnum, 44-40 WIN, 45 ACP, 45 Colt, 454 Casull, 45-70 GOV'T, 5.7 x 28, 500 S&W Magnum, 50 AE, .50 BMG, 5.56 NATO, 6.35mm, 6.5 x 55 Swedish, 7mm Magnum, 7mm STW, 7mm-08 REM, 7.62 x 39 (AK-47), 7.62 NATO (7.62 x 51), 7.62 x 54R, 7.65mm, 8mm Mauser, 9mm Luger, 9mm Short. Many are offered with variants. If you do not see what you are looking for, please ask. 
Payment: Even if you do not have a PayPal account, you can still click on the PayPal logo and use your Credit or Debit card to complete your transaction.
We accept custom orders. Just like our regular orders, most custom orders are shipped within 24 hours (Monday to Friday, excluding Holidays).
Shipping is FREE to Canada and the USA. Other countries, please write to us and we will make a special entry just for you and we will keep the shipping cost VERY low for you, probably no more than an extra $5.
So far, we are proud to say that we have shipped our items to 25 different countries around the world. Here is the list (in alphabetical order): Armenia, Australia, Austria, Belgium, Brazil, Canada, Denmark, Finland, France, Germany, Hong Kong, Ireland, Italy, Japan, Mexico, Norway, Slovakia, South Korea, Spain, Switzerland, Sweden, Thailand, The Netherlands, United Kingdom, United States. Did you see your country? If not, would you like to be the first to add to this list? If you do so, we will proudly add the name of your country to this wonderful list of satisfied customers.